PCB design review and quality control
Constantly control quality with your in-house or outsourced team to catch PCB design bugs before manufacturing and save weeks on faulty prototypes.
GET STARTED
Better quality, Faster launch, Lower costs
Improve your PCB design quality by employing PCB design peer-review practice. Easily review every change made in a schematic or PCB layout to ensure there are no design issues and reduce the number of manufacturing iterations. With CADLAB's visual tools you can save hours on meetings and weeks on faulty prototypes.
How to review PCB design
Visually compare schematics and PCB layouts
Compare two revisions of a schematic or PCB layout. View every change in metadata, values, positions, connections, and added or removed elements. Switch between updated and older versions. See the whole picture, and inspect every change individually.
See how much faster CADLAB's diff is
Find 5 changes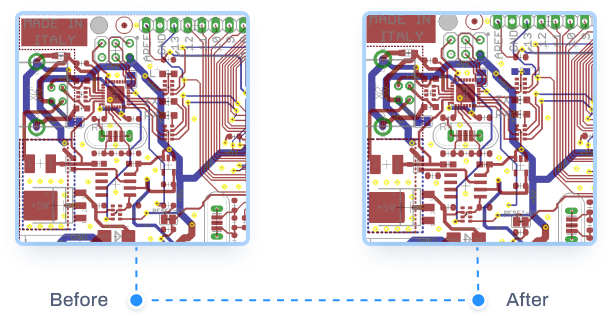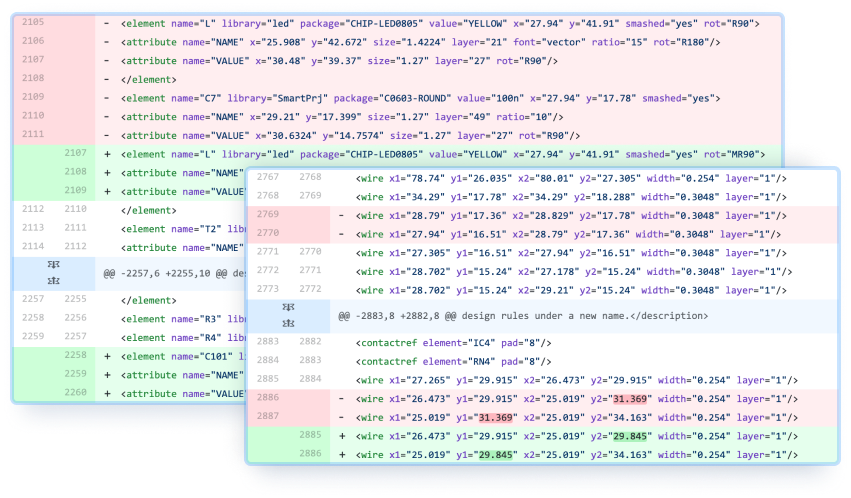 Provide feedback and approve changes
Set the right context to your feedback and comments on schematic and PCB layout design by visually selecting an area you want to discuss. Reply to comments and resolve them swiftly when an issue arises.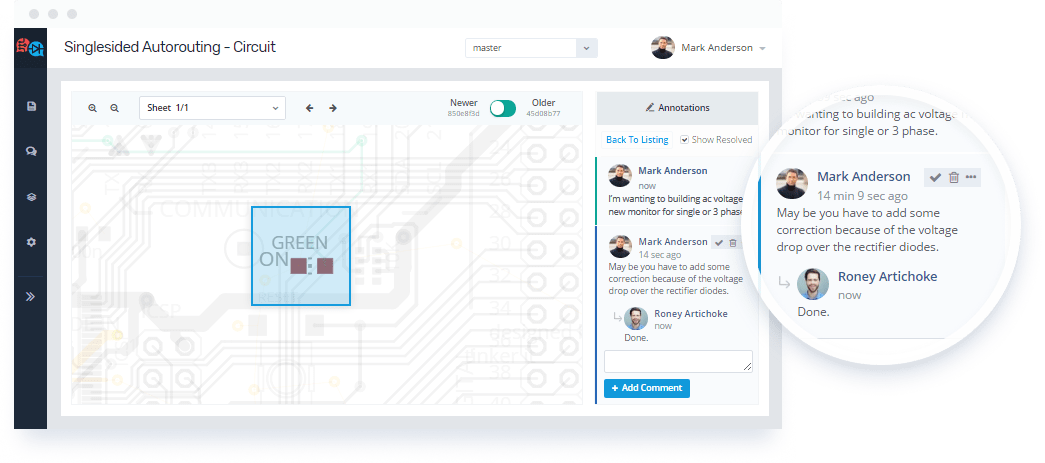 Take control & Drive results
Save hours on meetings
Reduce the time you spend in meetings to explain PCB design changes to your teammates. With CADLAB's visual diff it's easy for everyone on the team to see how design evolves with each iteration.
Boost knowledge-sharing and design ownership
Make sure the whole team knows how your product works. Frequent design peer-reviews help teams share knowledge and ensure everyone can adjust the design when necessary.
Stay aligned with your outsourced team
Easily keep track of PCB design progress with your outsourced team of engineers. Instantly access the most up-to-date version of the design. You can see what changes were made over time and quickly provide any feedback needed.
Reduce time to market & development costs
Either because of unpredictable issues or overlooked minor design flow, every additional iteration of a prototype manufacturing significantly increases your expenses and delays product launch. CADLAB helps you improve your PCB design process and maximize chances to catch design issues before manufacturing the prototype.

What is the real cost of a faulty prototype?
Thank you! Your submission has been received!
Oops! Something went wrong while submitting the form.